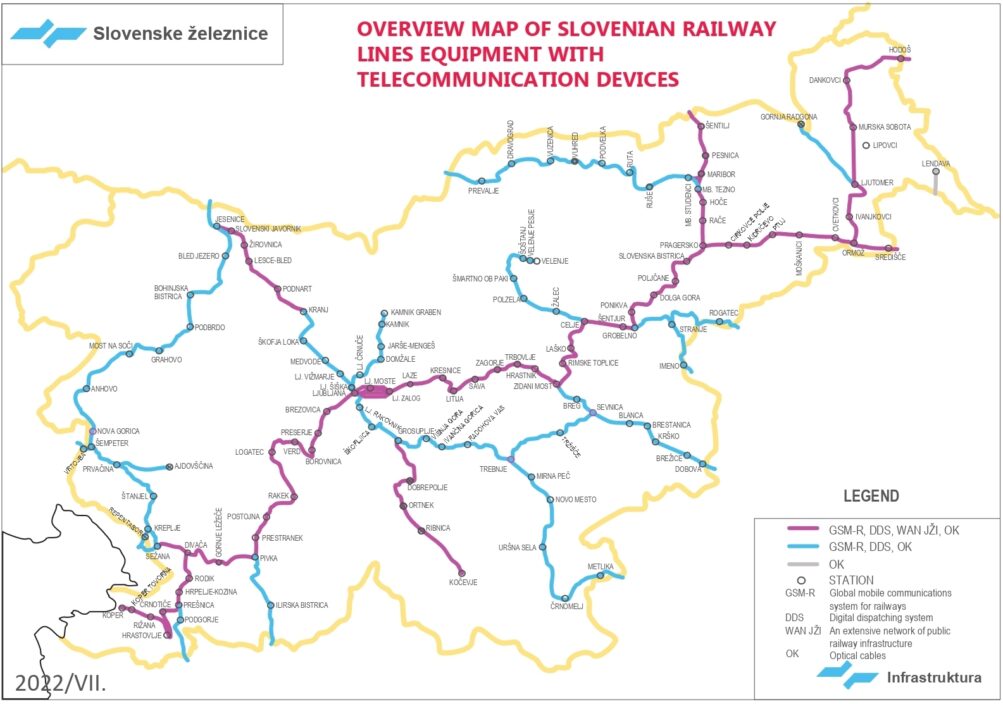 The railway telecommunications network is a functionally concluded network that enables the transfer of information and data for the needs of traffic management and infrastructure maintenance, and ensures smooth, safe and orderly development of public railway traffic, as well as the transfer of information for the needs of business communications.
It consists of transmission media (wired – metallic or optical – wireless media), railway telecommunication systems and devices, and terminal devices:
transmission systems,
cable systems,
atomatic railway telephone system,
railway line telephone network system,
radio communication devices,
forwarded messages registering devices,
data transfer devices and computer networks,
devices for real time audio and visual notification of passengers,
devices for transmission and display of exact time,
devices for powering telecommunications devices,
devices for central control and management of the telecommunications system,
splitters, installations and system of local communication networks,
earthing probes and other devices for the protection of telecommunication systems,
video surveillance systems or
devices for emergency calls and passenger information (SOS pillar).
The crossing of the two main railway lines is equipped with more than 560 kilometres of optical cable, suspended from the columns of the railway network, which is the basis for the operation of digital transmission systems and devices. As part of the project "Introduction of a digital radio system (GSM-R) on the Slovenian railway network", more than 1,200km of optical cable connections were made, along both the main and the regional lines.
Telecommunications network is described in point 2.3.12 of the Network scheme.
GSM-R
On the Slovenian railway company network, the GSM-R system is installed on all main and regional lines. You can see the graphic display in the picture.
The use of the GSM-R radio system is mandatory on all SŽ lines.
Roaming
SIM cards, issued for the GSM-R SI network, managed by SŽ-I, allow roaming in the following GSM-R networks:
RFI (Italy);
ÖBB (Austria);
MAV (Hungary);
DB Netz AG (Germany);
SŽ (Czech Republic).
SIM cards
The condition for issuing SIM cards to carriers and users is a concluded agreement.
The General conditions of use of the GSM-R digital railway radio network on the Slovenian railway network shall be observed.
SIM card orders for carriers and users are made with the Request for issuance and activation of SIM cards.
SIM profile enabled functionalities are described in the document profiles.
The costs of providing electronic communication services in the GSM-R network are listed in the price list.
Mobile devices
Mobile Devices
Mobile devices can be rented by users, if they are available, and after concluding the Agreement on the rental of GSM-R mobile devices.
The Terms of use of GSM-R mobile devices shall be observed.
The costs of renting mobile GSM-R devices are calculated according to the GSM-R device usage price list.