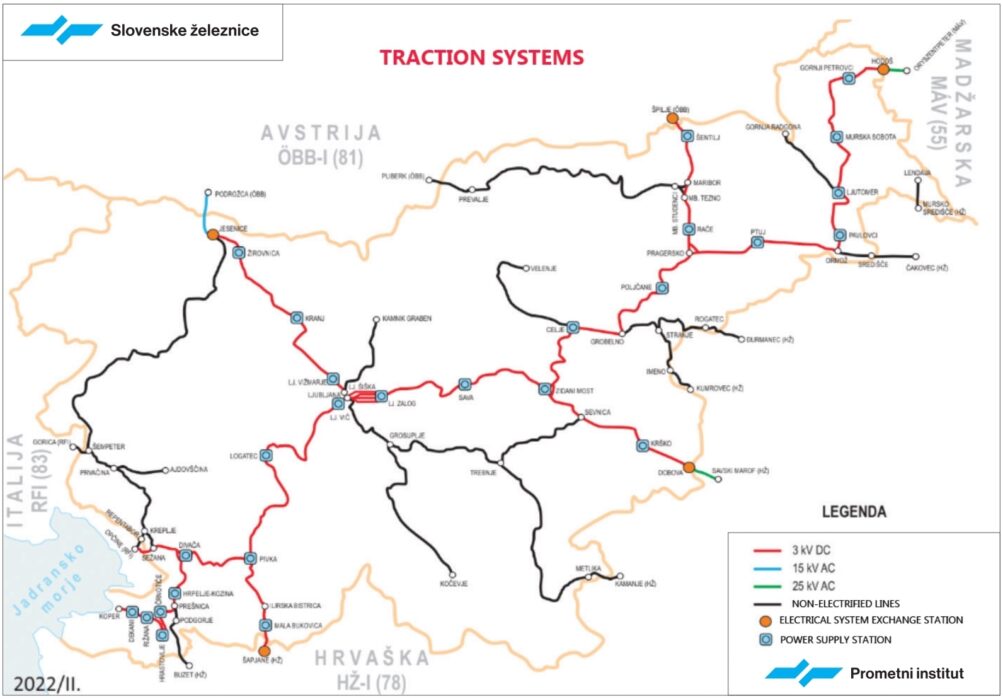 Electric power devices include stable electric traction devices (SETD), which ensure a smooth transmission of electricity from the public distribution network to electric traction vehicles and other consumers, all low-voltage electrical installations, including outdoor lighting and electrical installations in buildings. Stable electric traction devices consist of power supply stations (PSS) with connecting power lines and cable lines, the railway network and the SETD remote control system.
SŽ lines are practically entirely electrified with DC with a nominal voltage of 3kV, only on bordering sections is the electrification carried out with the system used by neighbouring countries: Austria (15kV, 16.67Hz), Croatia (25kV, 50Hz) and Hungary (25kV, 50Hz).
Power supply stations are connected to the medium-voltage distribution or high-voltage transmission network. In 26 PSSs, the voltage is transformed to a lower level, converted into DC voltage, and distributed to the power supply of individual line sections.
Power supply of electric traction vehicles is carried out by means of an electric railway network, which is divided into sections. A single section represents a network of one track between stations or groups of tracks at a station. Due to the relatively large traction currents, two contact conductors with a cross-section of 100mm2 and two supporting ropes of 120mm2 are installed on the main tracks, so that the total cross-section is 440mm2, or two contact conductors with a cross-section of 100mm2 and a carrier rope of 120mm2, so that the total cross-section is 320mm2. The total length of all electrified tracks is more than 1,400km.
The power supply stations and the switches of the electric railway network at the stations are controlled remotely from the SETD remote control centre.
The development of stable electric traction devices is aimed both at the modernisation of existing devices and at the electrification of new tracks on existing and new lines. In the area of power stations, the plan is to continue replacing devices with more modern ones, while the development of the railway network aims at using higher quality materials and equipment and reducing the impact on the environment.
Statistics
| | |
| --- | --- |
| Electric traction system | DC 3000 V |
| Length of electrified lines | 609,7 km |
| Electrified double-track lines | 330,9 km |
| Electrified single-track lines | 278,8 km |
| Number of power supply stations (PSS) | 26 |
Source: statistics of SŽ